We love to strike-through completed tasks on paper — don't you, too?
Now available all over Europe: our Eisenhower Matrix notepads!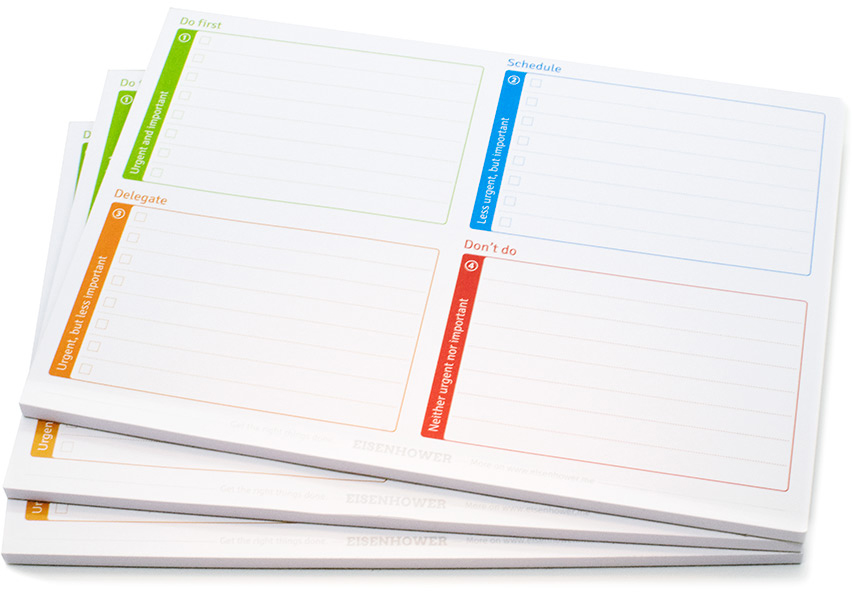 Get them now from an Amazon marketplace near to you:
Servicing US customers is planned for the near future. We're impatient as well!
Your Benefits
Small & Handy
Always keep your Eisenhower Matrix with you, right on your desk. It doesn't occupy your computer's screen, and you never run out of battery when on the go.
Easy & enjoyable
Quickly jot down your to-dos anytime. Strikethrough when done and enjoy the wonderful happiness of accomplishing tasks.
Daily fresh start
Grab your completed Eisenhower Matrix print, rip it apart and throw it in the trash bin – a satisfying exercise following a hard day's work.
Rolling out the Eisenhower Matrix in Your Company?
Are you a business owner or manager looking to keep your employees and business partners more focused and productive? Become their productivity coach with this unique giveaway: Help them take back control of their time to squeeze more accomplishments out of the day with the official Eisenhower Matrix canvas notepad!
We are offering higher-volume orders of notepads starting at batches of 100 or more, each of them featuring 50 glue-bound sheets of high-quality, color-printed DIN A5 paper. You can also have your own branding added for an extra cost.
We are currently shipping within Germany only. Worldwide business customers can obtain a printing license instead. To place an order, please contact us at business@eisenhower.me.